Implementing an effective and suitable WordPress hotel booking plugin can competently help manage reservations for your hotel, rentals, and other rental properties on WordPress websites, facilitating your customers making swift reservations. Offering your customers the convenience of booking and managing their bookings online, these plugins can improve their overall experience. If you optimize the user experience, your customers will remain loyal to your business. In this article, we have compiled a list of 9 top-notch Hotel Booking plugins for WordPress, with both free and paid options.
What plugin would you recommend for facilitating hotel bookings on your website?
Hotel websites require a booking plugin to ensure efficient development and maintenance. This allows clients to conveniently make reservations from the comfort of their own homes.
What to Look for in a Good Hotel Booking Plugin?
Dynamic Search Engine
Room Inventory Management
Advanced Pricing Logic
Photo and Video Gallery
Compatible with theme & page builder;
Clients access to see and adjust their reservations;
Multiple payment option along with local payment;
Email confirmation & reminders should be provided for both clients & admins.
To assist with this, there are 9 plugins available that facilitate bookings and offer a range of payment options. Moreover, a hotel system owner can easily manage reservations from a single interface.
1. Tourfic: Ultimate WordPress Hotel Booking Plugin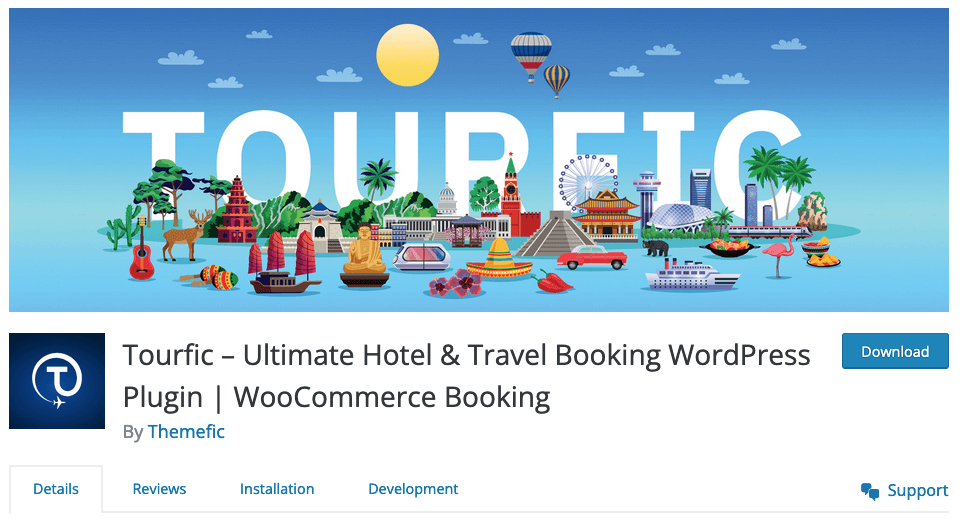 Tourfic is considered one of the best WordPress Hotel Booking Plugin. It is made to help professionals create websites with effective hotel booking, payment methods, and reservation systems.
Key features
Address with Map: Utilize Tourfic's integrated Map, driven by OpenStreetMap, to accurately locate an address.
Photo Gallery: The Popup Features of Tourfic's Photo Gallery will provide you with unlimited opportunities to showcase the images of your hotel.
Wishlist: Customers have the ability to store Hotels in their accounts for future reference.
Advanced Pricing: Price your accommodation by individual (Adult, Children, or Infant) or per room, or alternatively customise the rate based on the date.
Dynamic Room Options: Include a title, description, list of amenities, total number of guests allowed, and conditional pricing for each room.
Room Inventory Management: With every reservation, Tourfic systematically arranges and updates each room's availability.
Complete Room Management: Tourfic provides a comprehensive suite of room management tools for each hotel. Establish a distinct booking system for any type of room with the WordPress Hotel Booking plugin. To explore further, please click "Check Availability".
Drawbacks
Some of the options like Google Maps, Advanced Pricing logic are only available in the pro version.
Pricing
Tourfic has a variety of price options. They offer both Annual and Lifetime licence with a 30-day money-back guarantee.
Basic: It is free forever, and can be downloaded from here.
Starter: $59 with 1 website license;
Premium:$149 with 5 Websites license;
Business: $249 comes with Unlimited Websites license.
Tourfic can also be used for WordPress Travel Booking System.
2. WP Hotel Booking by Thimpress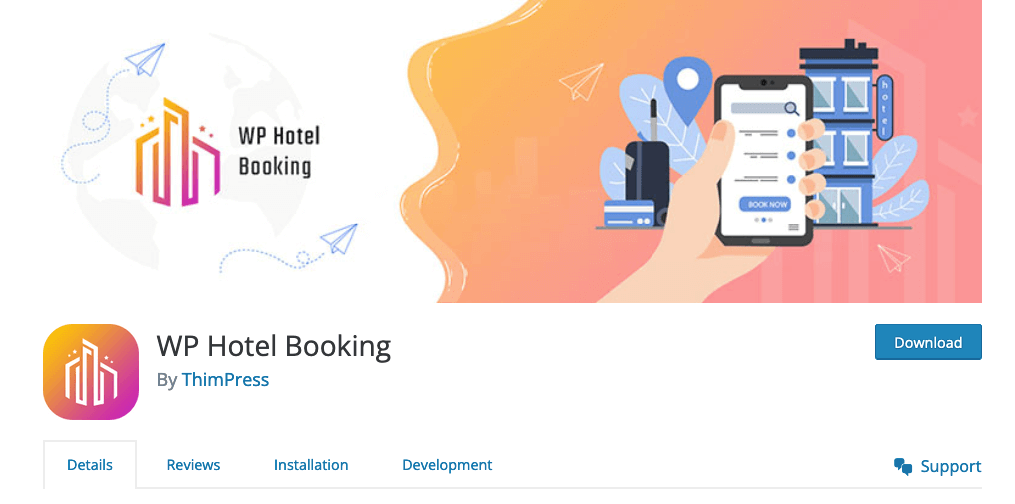 WP Hotel Booking by thimpress provides an intuitive user experience and flexible WordPress Hotel Booking system. With an option for 12-hour or 24-hour time display, the plugin is also available in multiple languages.
Key features
Booking report system;
Block room availability;
Enables Coupon feature;
Enables several currencies & additional packages;
Available pricing plans & booking management system
Offline payment option along with the three additional payment channels, Authorize. PayPal, Stripe, and. net;
Drawbacks
Certain functions, such as some payment gateways, require the installation of additional plugins, which can slow down performance.
Pricing
This plugin is available for free.
3. WordPress Hotel Booking Plugin by MotoPress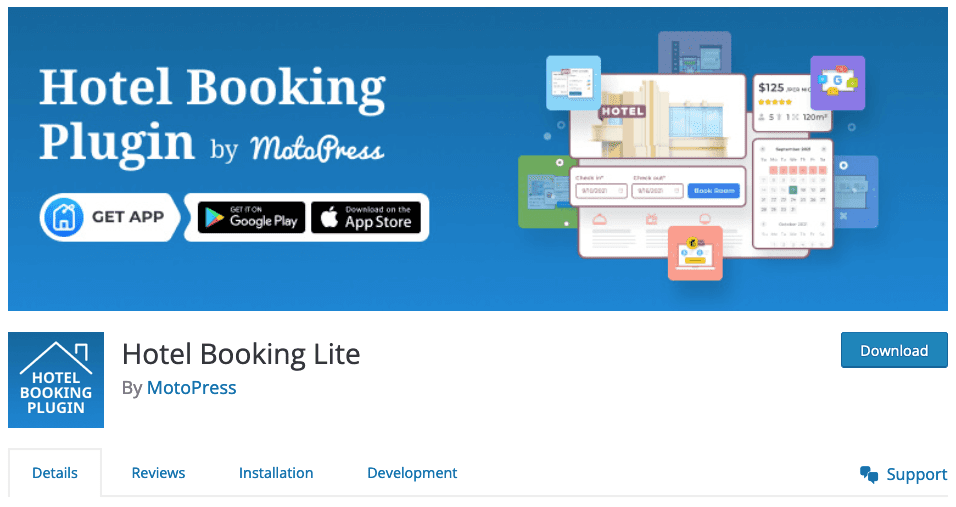 WordPress Hotel Booking Plugin by MotoPress is an ideal choice for businesses that offer hotels, lodging, holiday rental, or apartment services. With its versatility, it can accommodate an unlimited number of hotels and services.
Key features
Discount Coupon
Flexible property Search Form
Allow customers a personal dashboard
Real-time availability calendars
Shortcodes & Widgets are available;
Local payment gateways with WooCommerce;
Provides Instant or Manual Booking Confirmation
Accept Payments Online or After Arrivals in WordPress Hotel Booking Plugin
Drawbacks
Most of the Advance Payment Gateway add-on must be purchased separately and the pricing is quite high
Pricing
WordPress Hotel Booking Plugin by MotoPress offers two prices:
Single Site – $99.00
Unlimited Sites – $199.00
4. WP Hotelier

Another excellent free choice for hotel booking systems is the WP Hotelier plugin. WP Hotelier provides a comprehensive solution to hotel reservation management, allowing you to manage reservations and payments directly from your WordPress dashboard. This powerful platform features three distinct booking modes, email notifications, room amenities control, and the ability to set seasonal or fixed pricing.
Key Feature
This plugin is very versatile and user-friendly
Provide coupon codes (coupons).
Accessibility features and email alerts
Available extension & themes
Advanced room settings let clients choose rates, beds, and rooms;
There are three different booking modes: automatic, manual, and disabled;
Payment features require a down payment at the time of reservation or bill the full stay.
Encourage bookings by providing special price showing features throughout the off-seasons;
Drawbacks
The plugin offers an extensions package for one website at an affordable cost of 125 €, however multiple extensions may be costly.
Pricing
WP Hotelier is a free plugin. You can buy different advanced extensions: 125€ for all extensions, or you can buy them separately.
5. 10to8 Online WP Booking System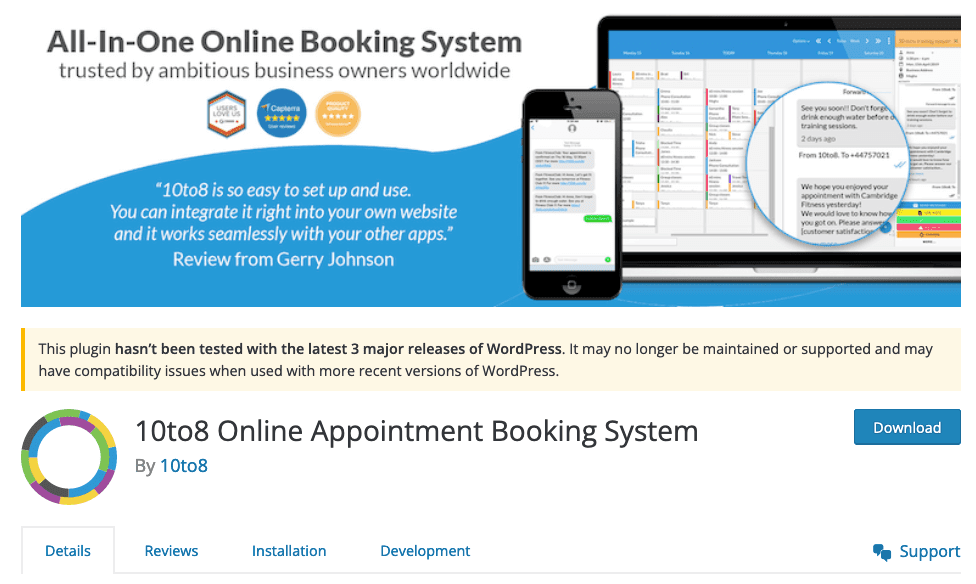 By allowing your customers to schedule and manage their own appointments without calling you, 10to8 Online WP Booking System plugin will help you operate your business more effectively. Clients may request modifications or cancellations by SMS, Slack, email, and Facebook using the two-way chat feature. All of your data will be manageable through a user-friendly plugin interface.
Key Features
Two way Client chat option;
Integration across more than 500 applications
Enables fully personalized booking experience;
Take online payments via PayPal, Stripe & Sage Pay;
Allows automated appointment reminders option for both clients & staffs ,
Real-time calendar synchronization is available for iCal, Google, and Outlook.
Drawbacks
This plugin has not been verified for compatibility with the three most recently released versions of WordPress. Support for this plugin may have been discontinued and there is a possibility of incompatibility with newer versions of WordPress.
Pricing
WP Booking System plugin is totally free
6. VikBooking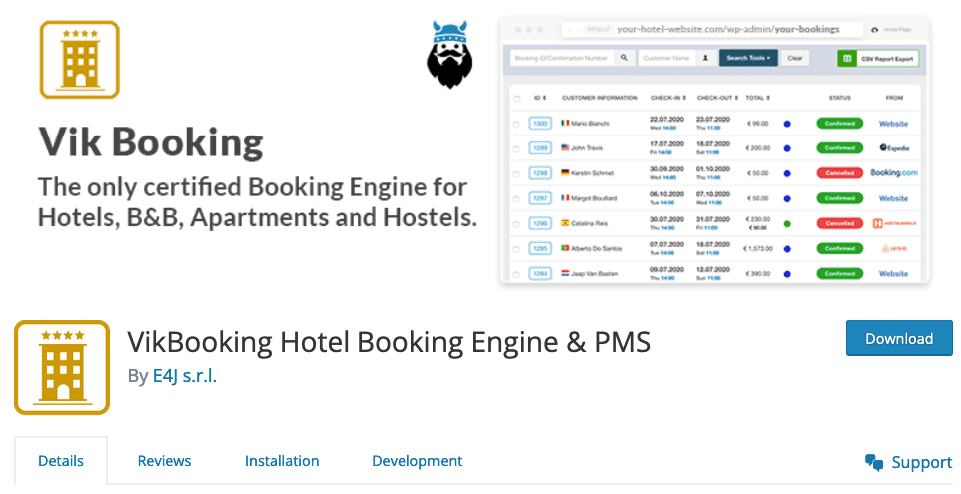 VikBooking is a hotel booking engine meeting both PCI-DSS and OpenTravel standards, allowing users to manage hotel rooms, properties, lodgings, pricing, and payments with ease. This plugin facilitates clients in their search for the perfect accommodation by providing them with a reliable and up-to-date room booking system.
Key Features
Back-end feature;
8 different views for the front-end;
A price-scalable channel manager option;
configurable front-end booking procedure;
Overview of available calendars and occupancy;
support for several languages and integrated translation tools;
various pricing arrangements such Occupancy, Nightly, LOS, OBP etc.
Drawbacks
Each Online Travel Agency (OTA) integration needs a subscription;
Additional payment gateway is sold separately.
Pricing
VikBooking plugin also offers a free & premium version of their plugin. Pro version is available for 140€. They charge separately for add-ons, thus their Vik channel manager, which lets you link your travel agencies with websites and modify your prices from the WordPress dashboard, would cost you 79€.
7. WP Booking System by Veribo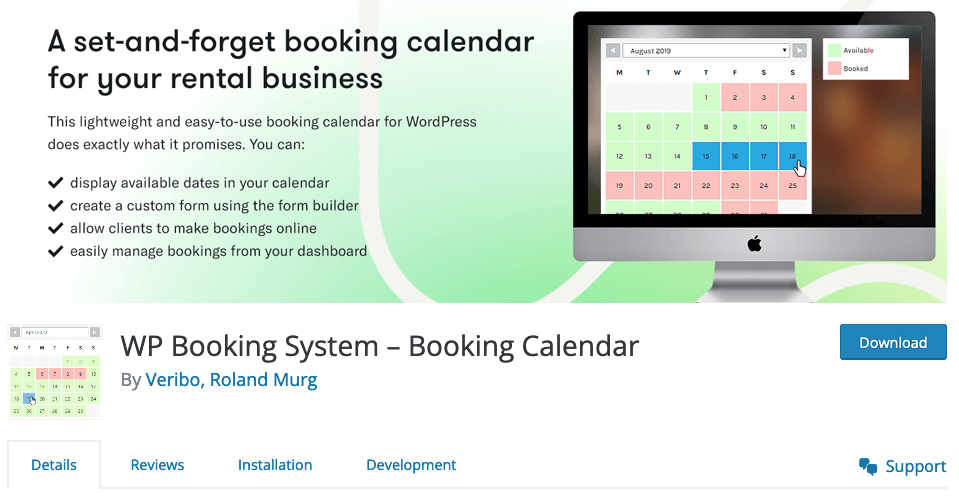 Another top-notch booking plugin for websites that handle hotel reservations is WP Booking System by Veribo. With the help of this plugin, you can add a shortcode that will allow you to position the booking system wherever you like on your website.
Key Features
All languages can be translated quite easily;
The booking system accepts both online and offline payments;
Personalized form fields and fully customisable booking form;
present a calendar of all reservations immediately from the WordPress admin; dashboard.
Drawbacks
The pro version only has access to the majority of the features, including adjustable colours and booking notifications.
Pricing
WP Booking System by Veribo also offers a free & premium version of their plugin. Yearly premium version available-
with 1 website for $49
with 5 website for $79
with unlimited website for $159
8. ARB Appointment Reservation and Booking Plugin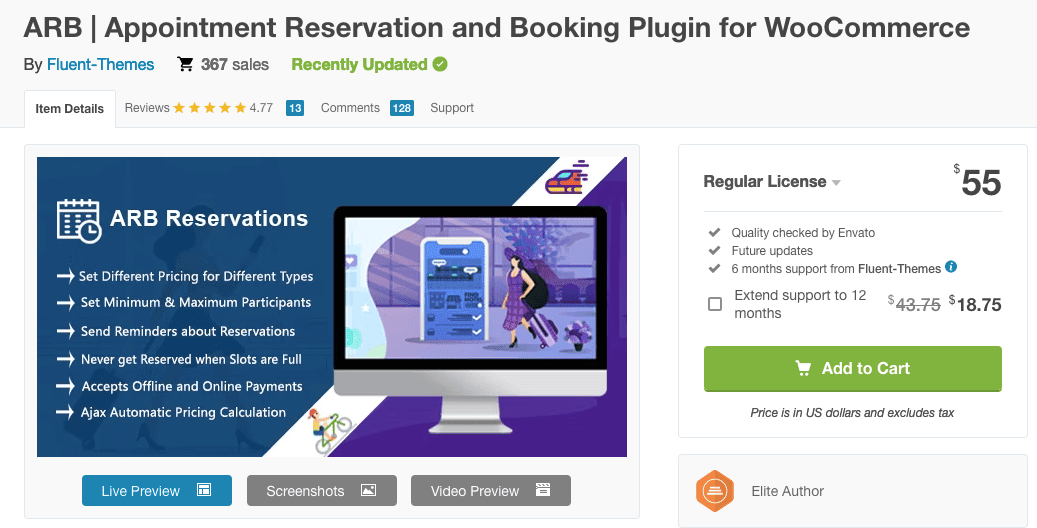 ARB Appointment Reservation and Booking Plugin is another good booking platform based on WooCommerce, simple to use & enables your clients to schedule appointments at hotels or resorts, for doctors, for courses, at salons.
Key features
Multiple online & offline payment systems
Set seasonal or promotional pricing in place.
Easy to use & manage for both clients & admins;
Send your clients email reminders and notifications;
Backend filters are available to make it simple to browse your properties.
Drawbacks
Calendar add-on features need to be purchased separately.
Pricing
ARB Appointment Reservation and Booking Plugin offers two licence:
Regular License for $55
Extended License for $249
9. Pinpoint Booking System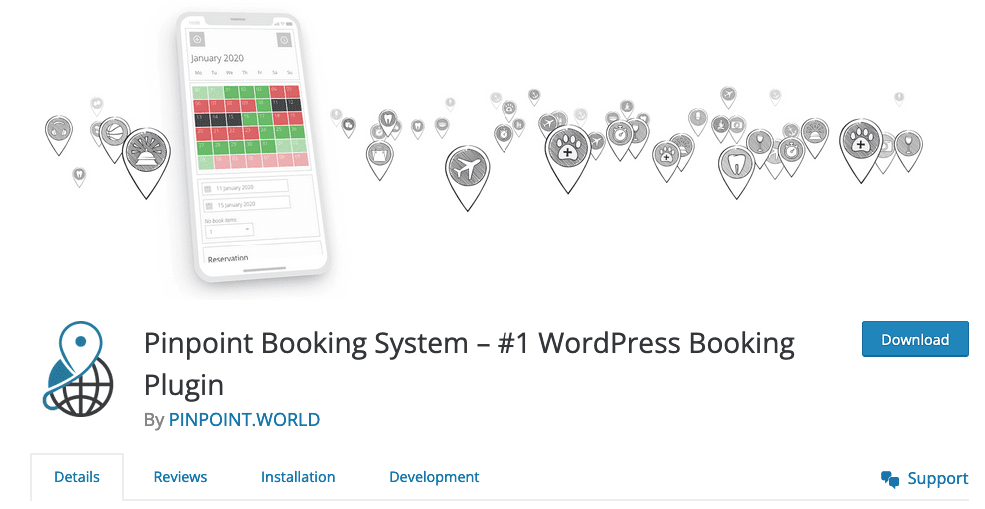 Pinpoint Booking System plugin is ideal for those in the hotel business. Reservations can be made with morning check-outs and can be made for days or nights. You can add extra facilities or services to your customers' reservations, as well as provide them deals and coupons.
Key Features
Support for multiple languages
Generating coupons or vouchers for clients;
Reminders and notifications can be sent to your clients through email or SMS.
PayPal payment method along with 6 different payment gateways: Stripe, WePay, 2Checkout, Authorize.Net, Braintree, ICEPAY, and Mollie.
Booking Calendar supports iCal format data synchronization with other calendars, including Mac Calendar, Outlook, Google Calendar, iCalendar, and Airbnb.
Drawbacks
Purchasing separately ($25 per) is required for optional additional payment gateways.
Calendars for making reservations should to look better
Pricing
This plugin has two versions free & pro. Pro version comes with three type of licence –
Personal licence for 1 year – $70 (1 stes)
Business licence for 1 Year – $140 (5 sites)
Developer licence for 1 Year – $280 (25 sites)
Final Thoughts
With this article as a guide, you are now informed about the 9 most reliable WordPress hotel booking plugins, each of which offers distinct features and is suitable for a variety of businesses. It is your decision to determine which one presents the most optimal solution for your venture. I trust that you are able to make an informed choice.
Help us grow by sharing this Post!